7 Questions is a series of interviews with the culinary movers and shakers you want or ought to know better.
The Cooking Channel (aka Food Network 2) debuted last year to a good deal of fanfare from parent company Scripps Networks.  From what I have seen so far, the new kid on the block is a force to be reckoned with.  Some familiar FN stars have found a place to truly shine.  Take for instance Aida Mollenkamp who's stand-and-stir Ask Aida was at times awkward while her new food/travel show FoodCrafters is polished and sleek.
Several Food Network: Canada stars have also found an American home on the Cooking Channel as well.  Last year I was lucky enough to speak with David
Rocco host of David Rocco's Dolce Vita.  I also got a little phone time with the gorgeous gastro-Guidette herself Nadia G. of Bitchin' Kitchen.  Another FN: Canada arrival is Roger Mooking, host of Everyday Exotic (my vote for the best stand-and-stir on TV today) and co-host of the new Food Network hit Heat Seekers.
Heat Seekers is part food/travel series and part cop-buddy film.  Or as Food Network puts it, "For chefs Aarón Sanchez and Roger Mooking, Heat Seekers is a tongue-testing odyssey to discover the most deliciously spicy food across the country — and to figure out why these dishes are so fun to eat."  I love this show.
Mooking is an anomaly within the cosmos of TV chefs; he's an accomplished musician.  I don't mean accomplished in the way that I gigged away the 90's in Nashville's underground rock scene.  I don't even mean an accomplished musician as in Emril Legasse who is good enough on a trap-set to make a comfortable living.  I mean accomplished as in award winning.
Mooking won a Juno Award (the Canadian equivalent of a Grammy) for his work with the R&B group Bass is Base and their album Memories of the Soul Shack Survivors.  He's been apart of three Much Music Video Awards to boot.  I feel quite confident in saying that Roger Mooking is the only person in history to both jam with James Brown and battle Michael Symon in Kitchen Stadium.
Cooking is a Mooking family tradition going back three generations and as a result Roger is first and foremost a chef.  By developing a culinary philosophy built on perfect execution of globally inspired culinary traditions, Chef Mooking has become one of the most respected chefs in the Great White North so now it's time for America to get to know him.  To help, Roger answers 7 Questions:
1.  You have an extremely diverse ancestry, how has it helped you as a chef?
It is who I am.  All of my creativity is framed by my background and family history.  As a chef it gave me a very broad jumping off point when it came time to create and develop new dishes.  Plus my family are very harsh culinary critics, if it's good they will say so.  If it's bad they look at you like "Get outta here with that ****."
2. How does being a celebrity in Canada differ from being a celebrity in the States?
I don't think about celebrity.  I create things that I love everyday and I realize that you're hot and your not.  So it's about touching people, which is the same all over the world.  Celebrity is a by product of touching many people.  I am blessed by being able to create things and share them.
3. Little is known in the States about the food scene in Toronto – can you describe what visitors should expect?
Toronto is a particularly culturally diverse city and although there are specific neighborhoods like India, Little Italy and such those areas are not exclusively populated by those people at all.  This I have discovered is very unique from having traveled a bit and I've come to appreciate this about the city.
There is also a great wine region and farming community in the Toronto area so the access to market fresh produce, meats and wines is also fantastic.  And because the demand from the immigrant communities is so great for their indigenous foods we also get a very wide variety of ingredients from all over the world in the most common of grocery stores not to mention specialty grocers.  I really feel that Everyday Exotic was born of this community and my cultural background.  The restaurant scene is as vibrant as New York but on a smaller scale.  People in Toronto are serious about their food.
4. You're a very busy man, how does a show like Heat Seekers fit into your lifestyle?
I grew up eating hot sauce sandwiches with butter as a kid.  It was a favorite sandwich – bread, butter and hot sauce.  So it fits into my life very naturally.  The scheduling side of it is a challenge but I'm committed to it so we make it work.  My team is the best on the planet and they keep me in line and able to focus on what I've gotta do.
5. Were you and Aaron friends before shooting began on Heat Seekers?
Certainly in another lifetime.  The first time we met I felt he was my brother.  We get along very well and have a lot of respect for one another, not to mention a lot of jokes.
6.  Both of you strike me as pranksters, are there any practical jokes when you're on the road?
Not ones that I can share here.  Hehehe.  But yes we have a lot of fun when we are shooting.
7. You've conquered Canada and you are taking the US by storm – what's next for Roger Mooking?
I've only touched on about 10% of what is lying in my brain.  There is still a lot of stuff I would like to do and you will have to wait for it as it comes together.  We'll save it for the next interview.  Deal???
Deal!
Now that you know Roger Mooking the chef better, groove out to Roger Mooking the musician.  For more on Roger check out his web site HERE.
Six or seven years ago I decided that all of my life's experiences had been preparing me for one thing – to be a TV chef.  The problem was I wasn't a professional chef and I didn't live in a large media market.  So I started changing my stars.  I began to write about food, I got out of my cubical and back into commercial kitchens, I started a web site and I bought a video camera.
Since then I have written two cookbooks (one has been nominated for a Gourmand World Cookbook Award), worked as a chef for a multitude of restaurants, appeared on several different TV shows, been the subject of a handful of interviews, I've talked shop with Bobby Flay, Ted Allen, Michael Symon, the list goes on and this site is currently ranked by Chef2Chef as one of the top 10 food sites on "the Online."
My journey isn't yet complete but at least I can see my destination on the horizon.  Next week I take another step, possibly the most important one so far.  A few months ago I was chosen to be a judge for the TASTY Awards which celebrate the best in food, fashion and lifestyle programming.  Next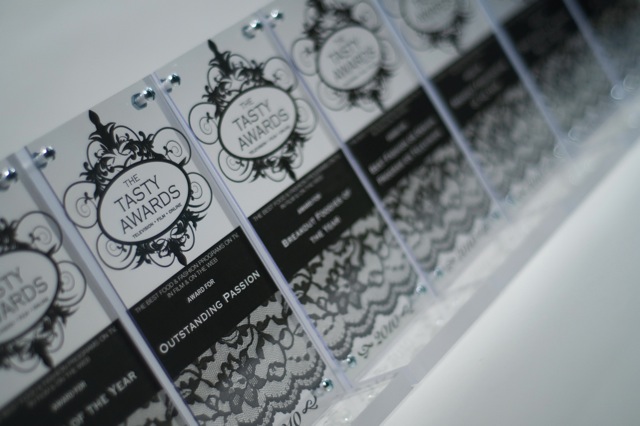 week I leave the casual pace of the Deep South and dive head first into the big leagues, Hollywood.
I am attending the TASTYs in person.  I get to meet up with some of my foodie pals IRL like Sara O'Donnel (Average Betty), Manouschka Guerrier (Private Chefs of Beverly Hills) and Susan Irby (The Bikini Chef).  Susan has been chosen as the TASTY Awards Red Carpet Ambassador.  She is giving me the bumpkin-friendly tour of LA.  Irby is originally from Georgia and will keep me from looking like a stereotype – I hope.  It won't be easy though as I have quite the "todo" list:
1. Ask a Mariachi band to play Freebird.
2. Make snarky comment about Malibu being the poor man's Biloxi.
3. Go to a Vegan restaurant and yell, "Salad is murder, too!"
4. Check flirtatious girls for Adam's Apples.
5. Visit a medical marijuana dispensary to see if bunions qualify.
6. Spray paint "SEC Football Rules" on the Hollywood sign.
7. Go to Beverly Hills and ask directions to Walmart.
The TASTYs will be presented January 13th at a Red Carpet Awards Show at Hollywood's legendary Egyptian Theater with live streaming at Hulu.com.  A few of the scheduled nominees and presenters include Gordon Ramsay (BBC, Fox), Candice Kumai (Lifetime Television, TLC), Luciene Salomone (WE tv), Ryan Seacrest (E!, Fox), Jeannie Mai (Style Network), Aida Mollenkamp (Food Network, The Cooking Channel), Manouschka Guerrier (Food Network), Guy Fieri (Food Network, NBC), Mario Batali (Food Network), Melissa and Joan Rivers (E!), Alton Brown (Food Network), Martha Stewart and the event will be hosted by Travel Channel's resident funny man Zane Lamphrey.
On March 31, 2010 The Fine Living Network officially became the Cooking Channel (aka Food Network 2).  The network features new shows from old favorites like Bobby Flay and Emeril Legasse.  It also presents a whole new crew of TV Chefs to entertain and educate our insatiable palates.
The bell cow of the Cooking Channel's fall season is the craziest damned cooking show you've ever seen, Btichin' Kitchen which blends equal parts Good Eats, Headbanger's Ball and Lords of Flatbush. At the center of this tempest of audio-visual overload is Nadia G.
Nadia's on screen persona is an amalgamation of Alton Brown, Julia Child and Pinky Tuscadero (Google it, ya mook).  And while her style is in the forefront do not for a minute think that Nadia cannot cook.  She mastered her skills at one of the most demanding culinary institutions on the planet, an Italian grandmother's kitchen.
And though the glitz and glamor on BK may be part of the show I can assure you the accent is real.  Nadia and her show started out on youtube and eventually steamed rolled into a series for Food Network Canada where it became an instant sensation.  Nadia is a native of Montreal and her brash Italian mannerisms and deft abilities in the kitchen soon made her a house hold name throughout the Great White North.  Check out this blurb from the Food Network Canada web site:
She's young, funny and can cook up a storm in 3-inch cherry stiletto heels. Food Network's bad girl chef Nadia G. and her misfit crew of food correspondents look at the funny side of everyday life situations and turn them into occasions worth celebrating — with great food and big laughs. Bitchin' Kitchen is the first-ever comedy cooking show to hit the small screen and it tastes good: From One-Night-Stand Breakfasts to Break-Up Brunches to Impress the In-laws Extravaganzas, Nadia G whips up the perfect blend of food and humor for any occasion. The focus is on accessible haute cuisine, fresh organic ingredients, and a hands-on approach that will inspire hip audiences of all ages to Rock the Kitchen!
Recently Nadia was nice enough to give this old Southern boy a little of her time.
Say someone asks me what's this Bitchin' Kitchen all about? What should I tell them?
There's three things in life that I love and that's food, comedy and rock-n-roll.  And Bitchin' Kitchen combines all three.  It's my baby like that.  Basically what we do is every week we take a new juicy topic whether it's rehab recipes, impressing the in-laws or break-up brunches, we lay it all on the table and have a few laughs and then we cook an amazing meal that goes along with it.

What advice would you give someone who is about to experience BK for the first time?
I would say get ready for an awesome ride.  There's definitely no other cooking show out there like it and sit back, relax and enjoy.
How did Bitchin' Kitchen go from the Internet to the Cooking Channel?
Well we started online back in 2007 it was a great success fresh out the gate.  We won favorite mobile comedy series and we beat Conan O'Brien's mobile series and "Tap This" which is another mobile comedy series which is written by one of the writers of the Ali G (no relation) Show.  We were super honored to be you know contending with such hard hitters and then of course to have taken the prize home was awesome.  After that success we got contacted by some publishers and they were like, "We love this concept and we want to do a cookbook."
So I designed and wrote the Bitchin' Kitchen Cookbook: Rock Your Kitchen-And Let the Boys Clean Up the Mess (available at amazon.com) and that cookbook did very well. It hit a couple of "best seller" lists.  And then finally now we had our launch on Food Network Canada and now we're launching on Cooking Channel I couldn't be more excited.  It's great.
Was it difficult transitioning from the 10 minute Youtube format to the 23 minute format of broadcast TV?
You know, initially we thought there'd be some challenges but honestly it translated really, really well.  Basically it just gave us more creative room.  With the quickies (the mobile series and web show) we would get things done in about three to five minutes which only gives us time for one recipe whereas with the cooking show we got a whole half hour.  So we cook up three dishes for each show and it gives us extra time to do funny stuff like skits and songs. . . We're actually airing the first music video to ever air on a cooking show in our "rehab recipes" show so it was exciting to just expand on the themes like that.
Are you still filming the show in Montreal?
Yeah, we film the show in Montreal.  We do spend a lot of time in New York and Los Angeles as well and I love it but the studios are in Montreal.
About your set – there is a lot of weird crap in the background of your kitchen – what's up with that?
I'm a big believer that the kitchen should reflect one's personality.  The kitchen reflects mine.  We got some really hot, cherry red retro looking frig, I think we've got the coolest appliances ever.  We've got some crystal studding going on on the counter, basically we love to rock the kitchen.  Some people are into granite and stainless steel and that's great but for those of us that aren't I love to find quirky fun stuff like a chain mail dish towel and put it in my kitchen.  It's just great to express yourself with.
What's your culinary background?
I grew up in a food-obsessed Italian family.  The kitchen was really the heart of the home.  I learned to cook with my mom, my grandmother, my aunt and I really believe that anyone can learn to make a great meal with the right attitude and the right ingredients.  So as much as I love food from professional chefs and I love to go to restaurants I also know that some of the best food I've ever eaten have been home cooked meals.  And I continue to cook Catalina-style Italian food.
If someone wanted to cyber-stalk you where should they go?
All my recipes are available on CookingChannel.com and my website is BitchinKitchen.tv where we have a ton of great, funny articles.  If people want to know what it was I was wearing during the episode we got these great little "rock this look" fashion files.  And you can also find us on Facebook where ever day we have awesome conversations about all kinds of bitchin' stuff.
RAPID FIRE QUESTIONS
Butter or margarine? Definitely butter.
Favorite celebrity chef? Alton Brown.
Which Jersey Shore cast member would you most like to kick? Hmm. None of them really.  Feed them maybe but kick them not so much.
What's sexier – abs or attitude? I'd have to say attitude.
Foie gras, raw oysters or caviar? That's a tough one.  I'm gonna go with oysters.
Bitchin' Kitchen airs on the Cooking Channel Wednesdays at 10:30pm ET.