When foodies talk about chefs they speak in hushed tones about the likes of Mario Batali, Emeril Legasse and Todd English.  When those chefs get together they speak in hushed tones about chefs like Daniel Boulud, Jacques Pépin and Jonathan Waxman.
Chef Jonathan Waxman is one of the all time great American chefs hailing from the "Provence of the US," Northern California.  But Waxman's early days were spent chasing the rock and roll dream (been there) relying on his trusty trombone to lead him to fame and fortune (done that).  Eventually he gave up his dreams of rock stardom in lieu of becoming a chef (got the T-shirt).
When many think of Waxman they think of the French trained chef that helped define California Cuisine as the executive chef of Alice Water's famed Chez Panisse in Berkley.  But it wasn't until 1979 that people began to realize his brilliance.  That was when he left Water's tutelage to open Michael's Restaurant in Santa Monica.
Soon the accolades came flooding in and it didn't take long for Waxman to move to the bright lights of New York.  It is there that he opened Jams Restaurant on East 79th Street and it has since been followed by Bud's, Hulot's, Jams of London and Table 29.
Through the years Waxman has played mentor to dozens, perhaps hundreds of young chefs including Iron Chef Bobby Flay.  Flay worked the line at both Bud and Jams and it was Waxman who first introduced the young chef to Southwestern Cuisine.  Flay says of his mentor, "Jonathan Waxman was the first person to teach me what good food was."
So it came as some surprise to me that Jonathan Waxman, master of California Cuisine and a pioneer of Southwestern had just published a cookbook of Italian recipes entitled Italian, My Way: More Than 150 Simple and Inspired Recipes That Breathe New Life into Italian Classics (available at amazon).
So I got a review copy from the publisher and decided to take it for a spin around the block.  First thing you see on the cover are the words, "Forward by Tom Colicchio."  Man, if Colicchio is writing your foreword it is a testament to the regard other chefs of caliber hold you in.
If you are one of those people that simply cannot stand a cookbook that is not overflowing with brilliant and colorful food porn then this is not the book for you.  If you love innovative recipes from someone who is truly one of the great cooks of our generation then saunter on over to amazon and order a copy.
Not that there are no pictures.  There are a few, mostly in black and white and crafted in an artistic, almost nostalgic format, like looking through an old photo album with your 90 year old Sicilian grandmother.
But the heart and soul of every cookbook are the recipes and Waxman has put together 150 where he re-imagines classic Italian cuisine.  Nothing drastic, mind you, the chef simply applies the spirit of Italy to the ingredients found stateside.  Take for instance this little gem:
Just a quick note to congratulate Richard Blais for winning Top Chef All Stars.  Your life is about to change.  Enjoy the ride, chef.
For those who missed the fireworks last night on Bravo here is a nice breakdown from TVfanatic.com: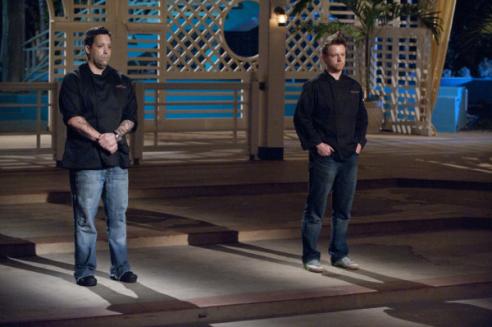 The Final Challenge
No Quickfire, there's just too much to do! The finale seemed a bit rushed to me, but at least Mike and Richard got to open up the restaurant of their dreams, with eliminated foes as their sous chefs. In an interesting twist, the chefs could not directly pick the latter; instead, the sous chefs "auditioned" for Mike and Richard.
While it's a fun twist, I wonder how happy the eliminated chefs must be to cook for the finalists. The fact that chefs who aren't chosen seem rather excited to enjoy their time in the Bahamas probably makes Richard and Mike more nervous.
The chefs are apprehensive, of course, because in addition to gems like Angelo and Antonia, there is also Jamie and Marcel. Richard gets Antonia, Spike, and Angelo, a fairly strong team, while Mike picks Jaime (ouch!), Carla, and Tiffany.
Richard's Restaurant: A surf and turf restaurant named Tongue & Cheek. So Richard!
Menu:
Amuse Bouche: Raw Oyster with Lemon Horseradish Ice Cream and Salsa Verde.
Raw Hamachi with Fried Veal Sweetbreads, Asian Pear, Pickled Radish, and Garlic Mayonnaise
Pork Belly with a Black Cod Cutlet, Bone Marrow, Beets, Brussels Sprouts, and Kumquat
Beef Short Rib with Mushrooms, Red Cabbage Marmalade, and Celery Root Horseradish Puree
Cornbread with Foie Gras Ice Cream and Whipped Mango
The food is generally well-received by the judges, although they seem a bit confused by the foie gras ice cream. I'm awfully curious to know what that tastes like.
Mike's Restaurant: An Italian-themed restaurant named Iz, as his mother called him Izzie while growing up.
Menu:
Spiced beets with Mozzarella, Chocolate, and Truffle Vinaigrette
Halibut with Kumquats Marmalade, Cauliflower Puree, and Pancetta Crumbs
Braised Pork Shoulder with Pepperoni Sauce, Roasted Cabbage, and Turnips
Rosemary Caramel Custard with Pine Nuts, Citrus, Cherry and Apple
Mike's restaurant gets rave reviews, as well, although his dessert isn't as well-received.
[ad] Empty ad slot (#1)!
…
Cheflebrity birth week continues.  A few days ago I took great pleasure in announcing that Cooking Channel star Roger Mooking and his wife welcomed a new daughter to their family.  Today comes word that Top Chef star Tom Colicchio and his wife Lori Silverbush has given birth to their third son.  Top Chef's top chef Tweeted the new arrival.
[blackbirdpie url="http://twitter.com/#!/tom_colicchio/status/50273274202046465″]
Congratulations!
SPOILER ALERT: The following information is the outcome of Canora vs. Forgione for the title Next Iron Chef. If you want informa
tion on the combatants click HERE. If you are only interested in the outcome read on.
The judges for Battle: Ultimate Thanksgiving Feast were Donatella Arpaia and Simon Majumdar plus Iron Chefs Michael Symon, Bobby Flay and Morimoto.
Congratulations to the Next Iron Chef. . .

[ad] Empty ad slot (#1)!
Marc Forgione
[blackbirdpie url="http://twitter.com/#!/MarcForgione/status/7162036848955393″]
Did you miss an episode of NIC because you were helping count write-in votes in Alaska?  No problem, you can get caught up HERE.  Be sure to check out my exclusive interviews with Celina Tio (HERE), Mary Dumont (HERE) and Maneet Chauhan (HERE).
Be sure to check out new Iron Chef Marc Forgione in his first title defense next Sunday night against Chef RJ Cooper.  If you haven't yet, be sure to check out my recent interview with the newest Iron Chef, Marc Forgione HERE.
Photo courtesy of the Food Network.